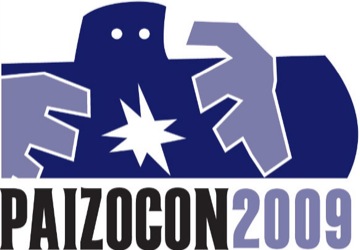 Now I know everyone in the blogging community is buzzing around the
new GSL
but let's take a step back to look at other news, shall we?

PAIZOCON 2009
returns and bigger as ever. It will be held on 12-14 June, 2009 at the Coast Bellevue Hotel in Washington.
The 3 day event will have exclusive special events such as, RPG Superstar Pre-Qualifiers Tournament, artist sketches, panels, minis painting workshops, Secret of TSR seminars and of course, 24 hours of open gaming with new Pathfinder Society organized play scenarios and many other games. It would also be a great opportunity to chat with the designers like Jason Bulhman, freelancers or any of the Paizo staff.
A special
Pathfinder RPG Review Banquet
will be held on 13 June where attendees will have an opportunity to catch a glimpse of the complete version of the Pathfinder RPG and the Pathfinder Bestiary for the first time. There will also be quizzes and prizes will be given where one lucky attendee will stand a chance to win an autographed Pathfinder RPG by everyone in Paizo delivered to you when the game releases on August.
There will also be special guests who will be attending PAIZOCON 2009, namely Monte and his wife, Sue, Cook, Eva Wildermann, Wolfgang Bauer, Sean K. Reynolds as well as other
industry players and celebrities
.
Still hesitating? There are only 250 3-day badges for sale for the event and rooms with special rates at the Coast Bellevue are only guaranteed to those who book before 21 May 2009 with. You must have the 3-day badge to be entitled to buy a ticket for the Preview Banquet Dinner.
Tickets for PAIZOCON 2009 ($30 each) and the Pathfinder RPG Preview Banquet Dinner ($5) can be bought at
PAIZOCON's online store
. This event is organized and sponsored by Paizo Publishing LCCC.
Can't make it to GenCon this year? Then head on over to PAIZOCON 2009!